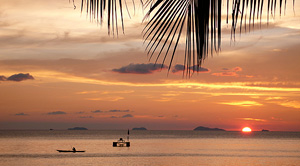 Koh Samui has been a top tourist destination in Thailand since the 1980s. In that time it has developed a comprehensive road system, first class hospitals, and an international airport as well an impressive array of leisure activities for visitors to the island. Amidst all this development there has been those who have expressed concerns for the environment, and there are those are saddened by the decline of traditional island life.
There are, however, still a few relatively undeveloped areas in Koh Samui. One of them is found in the southeast of the island at a place called Taling Ngam. It is a wide bay that is sometimes called 'the most remote beach' on Koh Samui. It is here that visitors can discover some of the most pristine natural scenery on Koh Samui, and also experience the atmosphere of a beach that does not rely exclusively on the money from tourism for its economic wellbeing.
Taling Ngam has a long stretch of white sand beach. Behind the beach is a wide piece of flat land covered in coconut palms. There is very little development in the area. There are a few shops (including a quirky guitar shop where the owner gives free guitar lessons) and resorts and a small fishing village. The local restaurants in Taling Ngam serve seafood freshly caught for some of the cheapest prices on the island.
The resorts in Taling Ngam are spread out along the beach. There are a few budget bungalows but most of Taling Ngam accommodation falls in the middle range. The notable exception is the newly opened Conrad Koh Samui (Hilton) that offers private pool villas that fan out around the side of a rocky outcrop.
On the beach there is the Sunset Beach Resort. This is one of the few resorts in Koh Samui that makes any effort to be environmentally friendly. Among its green features include a desalination plant that provides clean drinking water free of charge to guests. The Sunset Beach Resort also has a fitness center, spa, sauna and a communal pool.
There is no night life worth mentioning in Taling Ngam. That is also part of the charm of the beach. Those seeking late night thrills and the inevitable sex workers are nowhere to be seen in Taling Ngam. At night the highlight is watching the sunset and then listening to the sea lapping on the shore.